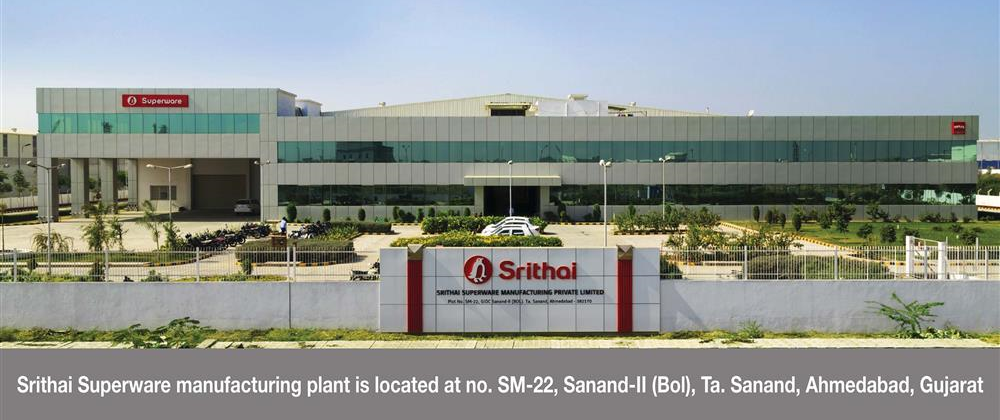 Srithai Superware Manufacturing Private Limited (SSMP) is a 100% subsidiary company of Srithai Superware Public Company Limited –Thailand  which has been established longer than five decades and has become the world's largest manufacturer of 100% melamine tableware. 
It is Srithai Superware's pride  & privilege to have the opportunity to manufacture melamine tableware products in such great country like India.  Srithai's team of experts has combined their expertise with cutting-edge technology to build and groom up local Srithai family members of India for the same skill and expertise in order to create melamine tableware following the same manufacturing standard as those exported to more than 100 countries on every continent in the world by Srithai Superware Public Co. Ltd., Thailand.
SSMP was founded in the year 2013 at Plot No. SM-22, GIDC Sanan-II (BoI), Ta. Sanand, Ahmedabad, Gujarat with total land area of 28,250 sq. metres.  It started its manufacturing operation in the year 2015.
Use and Care of Product
         Superware® products are made from 100% Food Grade Melamine
         Superware® products can be used for serving and (heat resistant up to temperatures of 140°C)
         Fall or hit against hard objects may cause immediate breakage or damage to the product
         Superware® products can be washed by hands or in an automatic dishwasher (carefully load items to avoid hitting against each other during motion)
         Use non-abrasive cleanser only
         To remove tough stains use non abrasive scouring pads with non abrasive cleanser 
Features
         100% Food Grade Melamine
         Food Contact Grade Color. (Colour safe for food contact)
         Heat Resistance up to temperature of 140°C
         Resistance to Breaking, Cracking & Chipping.
         Stain proof, long lasting designs.
         Glazed Finish
         Safe for Dish washer Use.
         Awarded Thailand Industrial Standard for Melamine Products.
         Certified Melamine Molding Compound with regard to safety Human Health By USA National Science Foundation.
         Passed European Standard for Melamine Products.
Quality
The stylish products from SUPERWARE have unique and exclusive designs. Made from 100% pure melamine, they are decorated with beautiful artwork from our exclusive and wide range of design portfolio which is constantly escalating in line with the new trends.
Salient Features
100% Food Grade Melamine
Glazed Finish
Dishwasher safe
Break Resistant
Long Lasting Designs
Heat Resistant (up to temperatures of 140°C)
With the superior quality of the Superware Products, we have satisfied customers across the world to whom we cater on regular basis.
Our infrastructural facilities and expertise allow us to offer customized designs and shapes as per the requirement of our volume buyers.
SUPERWARE excels in quality at Competitive Rates.
Global Presence
We export our products to UAE, Kuwait, Saudi Arabia, Jordan, Muscat, Qatar, Bahrain, Egypt, Germany, Brazil, Nepal, Singapore, South Korea, Hong Kong, Austraila, UK, USA, Nigeria and Congo.